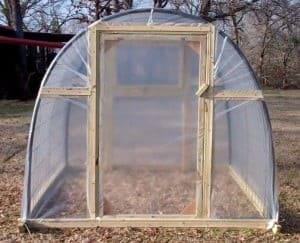 I have designed an inexpensive, easy to build, portable Greenhouse.
Inside dimensions are 8'4″ X 7′.
Depending on the cost of materials in your area, you can build one for about 150 dollars!
I've also written a Greenhouse PDF, that details the construction process. The Greenhouse PDF also includes a material list as well as drawings of all the individual parts. There are tons of pictures showing the construction process step by step.
I've written an article about Greenhouse Placement on your property. Having a Portable Greenhouse solves all the problems of "location".
Also, updated in this Greenhouse PDF, I show how to turn this design into a permanent structure by using corrugated metal, fiberglass or plexiglass for the top instead of plastic. You CAN use a tarp as a roof, but metal, fiberglass, and plexiglass will last a long time.
Many (including me) have used this design to make livestock or chicken sheds too. It's so versatile!
So, check out the Greenhouse PDF. It's less than $10 but it will save you more than that in time and money.
Here's the link to purchase the Greenhouse Plans
If you would rather have the Greenhouse Drawings and Materials List in an e-Book form, you can find it here On Amazon.
Here are some Testimonials from folks that ordered the Greenhouse Plans:
Thanks for very clever design. I am in Sydney Australia and plan to build my own glass house just like yours, it looks great. I plan to use mine to grow tomato all year round. Our climate is a very mild winter and with the shelter this glass house can provide, I reckon I can eat tomato and lots of other great crops growing all year round. It's a brilliant design and simple for even a novice like me. Thanks again for your ingenuity… Bloody brilliant Mate! – Emmanuel
Alan, I used it to make a chicken house. I'm 67 years old and simply could not build a chicken house any other way. Thank you so much… -Tavia
Just put mine in today. 24×10 ft. Used metal straps to secure the panels to my existing framed in garden. Thank you so much. Who'd have thought you could build a greenhouse for less than $200 this size. 🙂 -Joanna
I have been looking for something a little more durable than PVC pipe. I really like your idea here. We don't get wind often, but when it blows, it blows hard. Your model looks like it will stand up better to the wind. Thank you for taking the time to show how your plan comes together from start to finish. – Jones Family
Alan, this is great. I do not imagine it could be made much more simple. For us, this looks like a great seedling starter, but I am also hoping to have a greenhouse that can keep us growing throughout the winter; and not sure just how big we may need to make it (5 kids…). Thanks! – JandJAcres http://www.youtube.com/user/JandJAcres
That is about the niftiest thing I ever did see. Configurable no less. My PVC greenhouse snapped after a strong windstorm and the cover shredded so I have been looking for a way to replace it. This set up is about the best I have seen and looks like I can do more with it. Thanks tons for sharing. I found I could modify it a touch and I have a place I can park the lawn tractor, towable cart, work benches and tables, and a pallet of shingles. Oh and that was not the green house. 😉
Just used your idea and put a heavy duty tarp over the arch. The span is 12 + feet wide and 10 feet long. Anchored it with rebar. This was *extremely* versatile a set up. – Phoenix Wow!!
Thank you soooo much. I am waiting for the snow here to leave so I could build my greenhouse. I bought a kit online. I am now going to sell the kit to someone and build one like yours. You have done me a big favor in terms of money not spent on things that would not last. Yours is awesome. Makes so much sense. Again thank you. -Meghan
I built one this weekend!! I made it 12′ long, but everything else is similar. Great directions, I had no problem getting it together. THANK YOU!!! -Josh
I have a website and sell greenhouses….but this greenhouse kicks butt. grand idea. Thanks, I plan on using this idea. – Sam
Far and away the best idea for fast and simple construction of a greenhouse…thanks ~! – Guy
This is one of the best ideas for a simple green house that I've seen. 🙂
I'm in Canada so I need to think of dealing with a structure that will hold up under fairly harsh conditions, I think this is a good design for me to try. -Gord
Cool idea…you just saved me some money -Jacquelyn
This is awesome. That is such a nice greenhouse. It is top of the line for a quick and easy make-it yourself project. thnx for sharing. You do beautiful work. – Terry
Love your design. I have been gardening for 4 years and have finally decided to build me a greenhouse. -Jon
I love your green house design! I am gathering the materials to build 2. Thank you so much for showing me and anyone who is interested, how to build such a useful structure. I am grateful. -Brad
Ingenious plan! -Sarah
This is exactly what I have been looking for. I just need a small greenhouse to put my small plants in until it gets warm enough to transplant. I can't bring myself to buy a cheap unit down town, but this will work great. Thank-you. -Andy
You have shared an excellent Greenhouse build. What a great and ingenious building! -Dave
Thank you so much for sharing this great plan. We will be building one this weekend for starting my spring and summer garden. It will also be home for my orange trees in the winter. Happy Growing! -Janie
You have shared an excellent Greenhouse build. What a great and ingenious building! -George Thank you again! I plan to cover with netting instead of plastic for a bird-proof blueberry house! -Christina
Thanks for stopping by!
alan
Here are some other views of the greenhouse: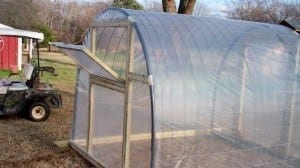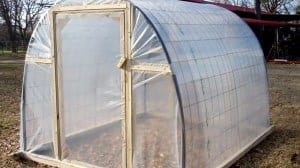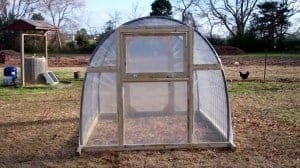 And some pictures of Greenhouses other people have built using my design.