Hello, and thanks for visiting Homestead Advisor. Let me tell you a little about ourselves.
We've been building a homestead on our 17 rolling east Texas acres for well over 35 years, and have gained a vast set of skills in just about every area of homestead life. Over the years we have raised cattle, pigs, chickens, bees, catfish, and rabbits, as well as preserving habitat for a variety of native critters.
We've built a mile or two of fence, and have also made extensive use of portable electric fences. I've raised a barn, built a heavy-duty chicken tractor, several sheds and a backup solar power station.
On our homestead, we have several dozen fruit trees (pear, apple, nectarine, plum, fig, and persimmon) as well as hundreds of feet planted in muscadines, grapes, and blackberries. I've learned how to propagate my own grapevines, blackberries, figs, and muscadines to eliminate expensive trips to the local nursery.
We have extensive experience in gardening, both in raised beds, Back To Eden Gardens, Container Gardens, and row cropping for the market. We've been involved in saving seeds from all sorts of heirloom vegetables, as well as canning, freezing and dehydrating our bounty.
I've also designed an inexpensive, easy to build, portable greenhouse. You can build one for about 150 dollars.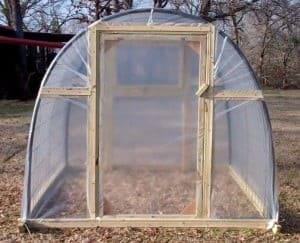 To take a closer look at my Greenhouse design and read reviews from all over the country, click HERE to visit My Greenhouse Page
For me, homesteading and preparing for emergencies go hand in hand, so for many years I've also been heavily involved in the preparedness movement, and have a passion for sharing that information with anyone that has a desire to be better prepared for emergencies.
My YouTube Channel has over 800 how-to videos dealing with all aspects of Homesteading. Click here to visit my YouTube Channel 
I hope you enjoy what I've put together here, and trust I have been of help to you. Happy Homesteading!
alan